I'll never forget the feeling I had when I first saw the 2003 movie The Italian Job and Charlize Theron driving that bad ass looking MINI Cooper. I was hooked. It became the car of my dreams and after that I never wanted to own any other car but a MINI Cooper and now I do. The main difference is that mine is 4 door, pepper white, with a black top where as her car was red with a white top and bonnet stripes. Either way it's a freaking MINI Cooper and it's sitting outside my house as I write this.
A 2002 Chevy Malibu has been my car for almost 11 years and it has been pretty reliable. But like all cars over time I've had to get things fixed such as the tires, coolant system, and brakes. Oh yes brakes. Damn Malibus and their brakes.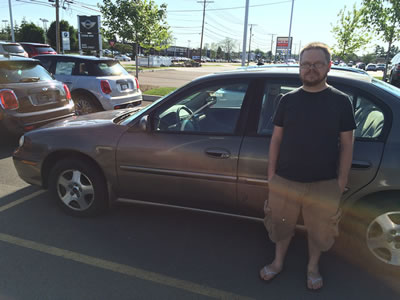 Ever since I moved back to Buffalo after a lovely year in Austin, TX I had been contemplating a new car. How to get the money together, if I wanted to lease, buy, etc. You see the 1,500+ mile drive down to Austin put a major toll on the Malibu and I knew it's lifespan had been shortened but my mind was in other places with the new city and all. So the thought of a new car was out of the picture.
Almost two years, a move back to Buffalo, and a freelance web design job later I made the decision to lease a new car. I went with a new car over a used car because I had been there done that and I was over the idea. It was time to think new.
So I looked at my budget and I figured out I could probably work a $250 a month lease. Of course the first car I thought about was the MINI Cooper. I also thought about a Honda Accord, Honda Fit, and a few others based on suggestions from car and non car people I trusted. But could I actually get a MINI Cooper. The MINI was the car of my dreams and as we all know we can't have everything we dream of but we can get close. Maybe I could get closer than close and started looking into leasing one.
A few weeks ago on a Tuesday which is the day I usually go to get "all you can eat" sushi at Shogun on Transit Road I stopped into the only Western New York MINI dealership, Towne MINI, to take a look around. Literally within 10 minutes of setting foot in the place I was test driving a 2 door pepper white hardtop. I was like, "Holy Shit! I'm driving the car of my dreams." There was no talking me out of it. I was going to get a MINI.
So after a few weeks, a few dealer delays, and a few back forthes on color/option choices I drove off the lot in my brand new pepper white with a black top MINI Cooper 4 Door. I chose the 4 door over the 2 door because I have friends who are big and tall and I knew they would want to ride in it. Plus I am a drummer so the extra space can come in handy.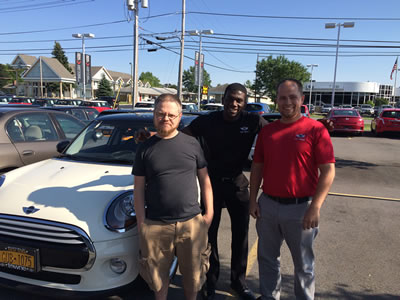 I would like to thank Alan R. for taking his time to deal with my picky bullshit and to Towne MINI in general for working around the other dealer's delays to get my car on the lot. Today I am a happy owner of a new car.
Anyone want to go for a ride? Cheesy last line I know but screw it.
I FUCKING OWN THE CAR OF MY DREAMS!